So I was catching up on my Morning & Evening devotional this morning.
Coming across a beyond-great quote from Charles
(yeah, we're on a first name basis now)
I decided to share it on instagram.
which is when I realized
I think I've shared this quote before
why yes
i have
a YEAR AGO
which is when I further realized
i totally missed my bloggerversary!
oh well, that's ok
i've forgotten worse things
and I'm not super big on celebrating
but it is kind of crazy to think that its been a year already
and its awesome to look back and see all that the Lord has done
and all that has changed
like these faces
I'd have to say after a year
the title of my blog still stands
i am carrie in chaos
but its not that my life is out of control
its just that I understand that my life is out of MY control
and as long as its under His control, I'm good with that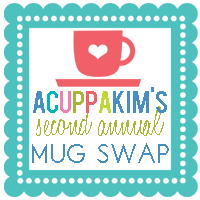 by the way
do you love coffee and tea?
of course you do
so join acuppakim's mug swap
two days left to register