Welcome to my PinterTest kitchen adventure for the last month
i had two
PROJECT #1
i chose crafting this month
because well, I had to pack all my baking supplies
and before the move, one of the only craft items I had available

was a sharpie, which we all know is a packing staple
but this didn't stop me
I got creative
especially since I was participating in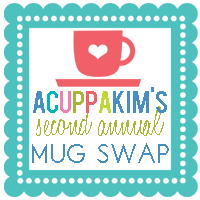 anyhoo, I found these cute little stackable mugs at Target
so, using a fine-point sharpie I began to write
Psalm 23
looks cute right?
so I then proceeded to do Psalm 1 on the next one
then came time for the baking
350 degree for 30 minutes
to let the sharpie set
and one awesome silhouette in the oven
TEST TIME
scrubbing under water to see if the sharpie actually stuck
and...
FAIL
Unfortunately this was done on the Sunday before the move
and so, shopping for, packaging, and getting to the post office was kind of
out of the question at this point, so I ended up ordering one online instead
which honestly, ended up being WAY cuter than anything I would have made
PROJECT #2
using a candle holder and quaker oatmeal container
and I had both of those!
So last Sunday after church
I grabbed the two items, plus some scrapbook paper
just ignore the Mod Podge on the left, it wasn't used
I ended up just cutting the scrapbook paper,
and taping it to the oatmeal canister
and then flipping the canister upside down and slipping the candle holder inside the can
so its open on the bottom
and then I just set the plastic cover on top
so simple
I began to add Aidan's headbands...
which is when I realized she only owns two
I guess, I need to build up that department
so we put her other accessories on it instead
and i think its kind of awesome-looking
Happy pinning
Happy crafting
Happy Thursday!